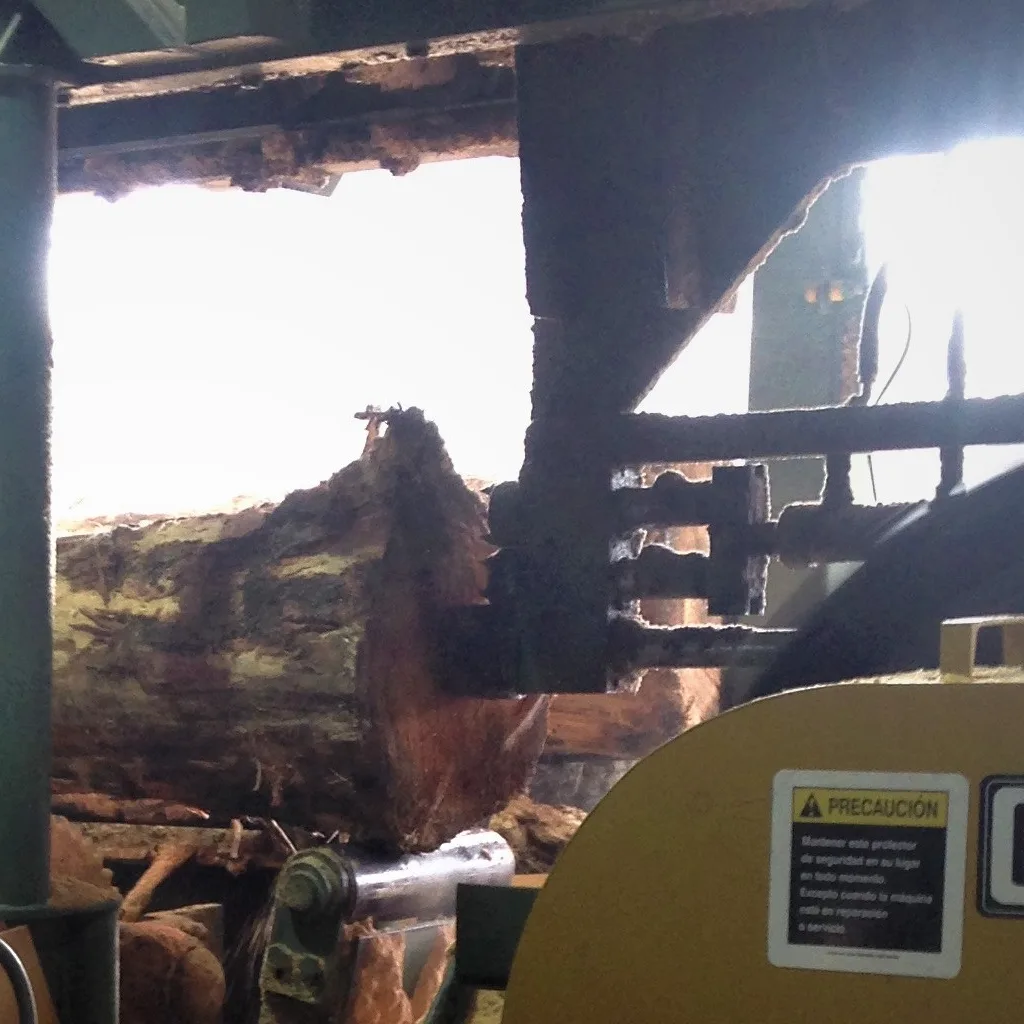 The Overhead Scragg is what Cooper Machine is best known for. We've been producing them for over 50 years. It's a work horse for making cants, ties, mats and lumber.
We have a full line of Overhead Scragg options to fit your small and large log production needs. When adding Vertical Edgers, it is also a great option for pallet cants and lumber. An Overhead Scragg works great beside a Carriage. This allows you to cut smaller logs.
Benefits of a Cooper Overhead Scragg:
• More versatility on range of products than a Carriage or Sharp Chain Scragg
• Wide range of sizes available for short to long logs
• Heavy duty husk frame uses THK hardened shafts and linear slide bearings for smooth movement to make the beds more uniform and temposonic cylinders with sensors for husk frame autoset and the ability to override.
• Gates polychain belt drive is used to get better use of horsepower
• Wider cant support helps to better support and true up the cant
• A front and rear carriage Igus track is used for hydraulic and electrical delivery on the machines
• Wider slab belts with motor mounted for ease of maintenance
• Three accumulators – two larger ones for better overall machine performance and a smaller one to strictly lift the pivot dog
• Larger dogging cylinder with a heavier rod for less maintenance
• Equipment is backed up by people who care
| | | |
| --- | --- | --- |
| Model Numbers | Description |  Product Recommended: |
| CMOH-32-60    |  32" – 60" material    |  Pallets |
| CMOH-36-60     |  36"- 60" material    |  Pallets |
| CMOH-36-10    |  36" – 10' material     |  Pallets, Ties |
| CMCS-06-12     |  6'-12'    |  Pallets, Ties |
| CMCS -07-17    |  7-17'    |  Cants, Ties, Mats, Pallets |
| CMCS -08-12    |  8-12'    |  Pallets, Ties |
| CMCS -08-16    |  8-16'    |  Dimension lumber, Cants, Ties, Mats, Pallets depending on quality of log |
| CMCS -08-20    |  8-20'    | Mat Timbers and Switch Ties |
See the Overhead Scraggs in Action
The Overhead Scragg, a true testament to our commitment to excellence, has transformed the way sawmills operate, optimizing efficiency and precision in log processing. Renowned for its durability and cutting-edge technology, the Overhead Scragg effortlessly handles logs of varying sizes, providing consistent, high-quality results.